---
· HOME · PRICES · PHOTOS ·
---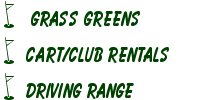 Top Of The World Golf Course
See You On The Sunny Side!
· Bag 189 Dawson City, Yukon ·
· Y0B 1G0 ·
· Phone (867) 993-5888 Summer ·
· Fax (867) 993-4447 ·
E-Mail:


The Clubhouse is open 10:00am to 10:00pm or later...
Located in Scenic Sunnydale, just five miles from the Ferry Landing.
Follow the signs on the Top of the World Highway.
RVs and Campers, come see us your last night in town.
FREE OVERNIGHT RV PARKING
Avoid the morning line-up and golf instead!
You'll be glad you did!
Call (867) 993-5888 Summer
New LOWER rates for the new season!
Friday Night is now Steak Night!
Every Friday night after 6:00pm
$15.00 Steak Dinner
Delicious Deserts for $5.00 & Drink Specials Too!
Ladies Night is every Thursday
Half price green fees, with
drink and food specials for the Ladies!
Group Night is every Wednesday
Bring groups of four or more
& green fees are only $18.00 each!
Mens Night is every Tuesday at 7:00pm!
Come out and put for cash!
Current Pot is at over $600.00

FREE OVERNIGHT RV PARKING Call Top Of The World Golf Course to book.
(867) 993-5888 Summer for information and booking.

All dates and events are tentative and are subject to change.
Check back often to find out about new tournaments and news!
June 2006

June 17


The All New Solstice Tournament ! Catered to local businesses & their staff.
Congrats to winners Julie Wiggins, Jeff Wiggins, Frank Douglas & Patrick Wihkler!
Best Dressed Team: DMC Electric! Starring Aaron France, Spruce Gerberding, David Fraser, Malcolm Dewell & Caili!

June 24

The Classic Midnight Sun Tournament Good ol' classic, compete under the midnight sun.
First Place went to John Kostelnick's Team, Second Place to John Rudulf's Team, and Third Place is T.B.A.




July 2006

July 29

Maximilian Tournament Champion: Bud Docken, Runner Up: Irwin Gaw, 3rd Place: Chuck Margeson, 4th Place: Duncan Spriggs.
Thanks to all those who participated! We would also like to thank Chris Sorg & Maximilian's for their continued support!!












August 2006

August 5

Giovanni Castellarin Invitational Hosted by the Downtown Hotel

August 10

Bombay Peggy's Invitational

August 19

Discovery Day Tournament





September 2006















---
· HOME · PRICES · PHOTOS ·
---



Website By: